CEwire2018 is here!
The conference is bigger than ever this year, with 50 COPE approved credits online for just $179 [Register Here]
We've also got discounts available for group practices (and as usual, students or those who don't need credits can register for free!)
The "live" portion of the conference will take place online on January 20 & 21, 2018. The lectures will then be available to view on demand through May 1st, 2018.
Attendees need not attend live — our goal is to make the conference-going experience as flexible as possible. Many people just watch the lectures in the 90-day "on demand" period, whenever they have time.
The 2018 conference concentrates on systemic disease and its impact on eye care.
Take a look at the course list & register today.
Profits for Charity
Profits from the event are being shared with leading eye care charities:
– The American Academy of Optometry Foundation
– VOSH International
Special CEwire2018 Livestream Guest: Gretchyn Bailey!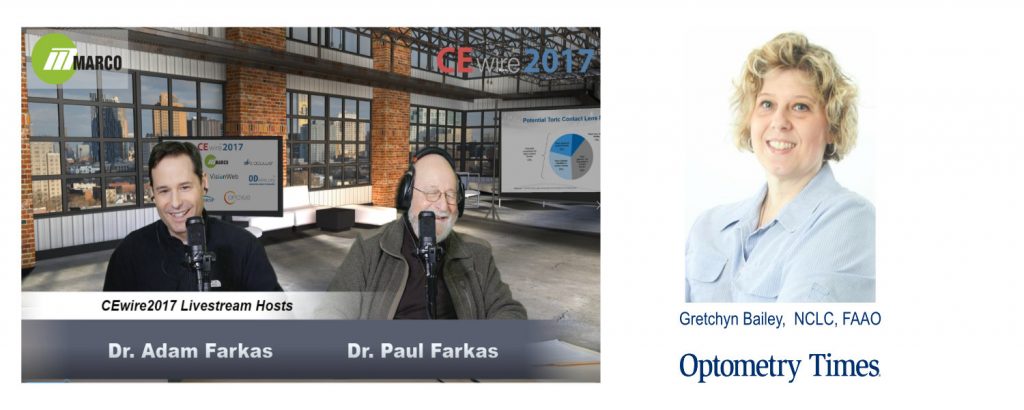 Throughout the event, Drs. Paul and Adam Farkas will broadcast from CEwire HQ, giving you the latest updates on the conference, and interviewing leaders in eye care.
We will be joined in studio by special guest analyst Gretchyn Bailey, NCLC, FAAO, Editor in Chief and Content Channel Director at Optometry Times.
It should be a fantastic show!
Register here, and ask any questions you might have about the event in this thread.
Hope to see you there!