Site Administrator & Tech Lead
Staff member
Feb 24, 2001
16,780
3,350
113
School/Org

University of Michigan Medical School
City

Lake Oswego
State

OR
REGISTER HERE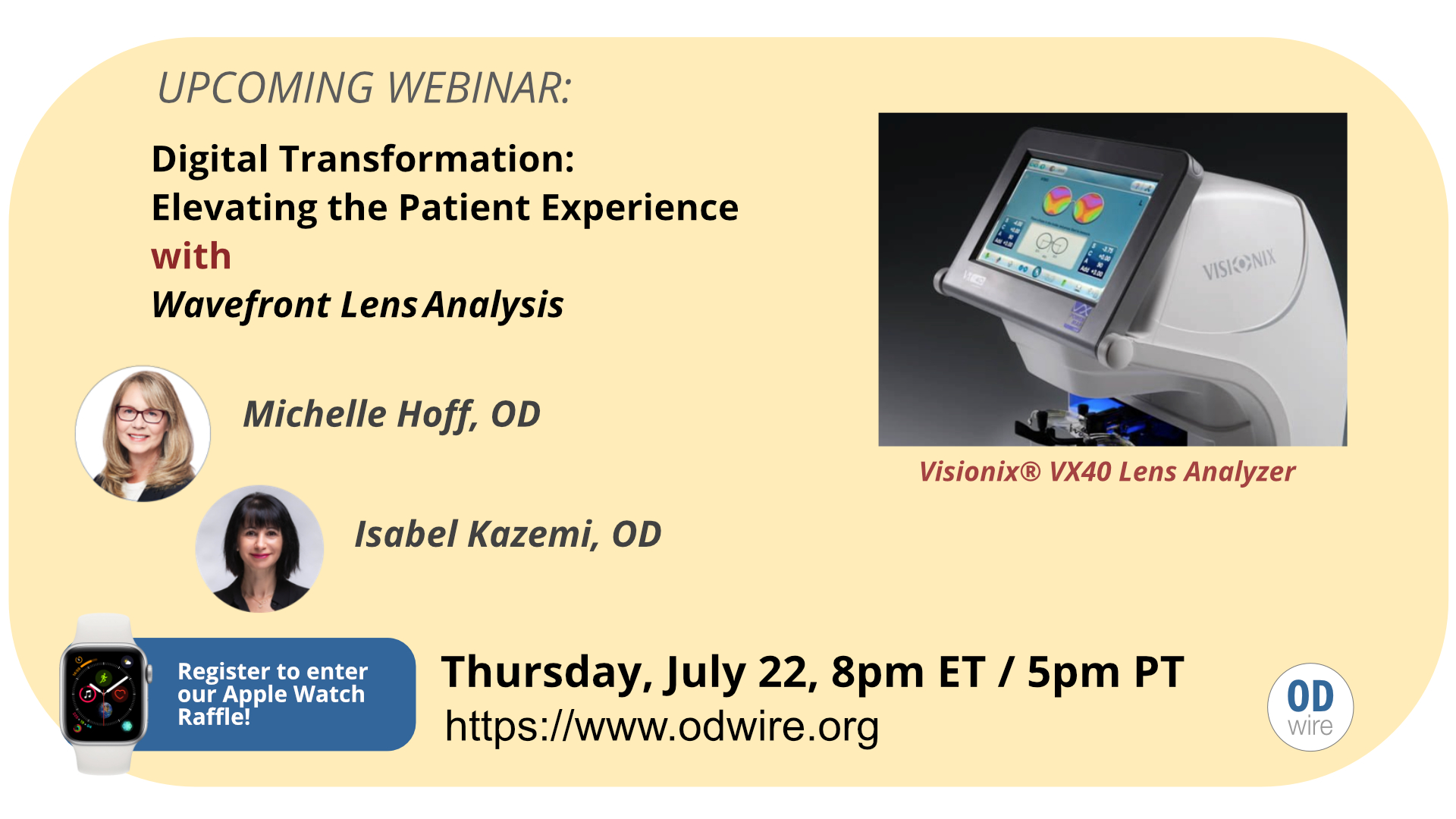 LIVE ONLINE
Thursday, July 22, 2021 8pm ET / 5pm PT
Implementing the right technology can take your practice to the next level in optical care. Being equipped with the
latest innovations in lens analysis technology
will elevate the patient's eyewear experience and in turn boost practice revenue.
Michelle Hoff, OD
and
Isabel Kazemi, OD
, the founders of Sightline Ophthalmic Consulting, bring over 50 years of combined experience in optometry, ophthalmology, optical and private practice.
They offer advanced education and training for practitioners and their staff focused on new ways to elevate patient care and drive business revenue.
During
this webinar
, Drs. Hoff and Kazemi will help practice owners understand how incorporating
Visionix® VX40
lens analyzer with wavefront lens analysis can enhance the patient experience.
They will explore
wavefront-based tools
to help build patient trust and enable staff to make intelligent and targeted lens recommendations.
As a result, patients will receive recommendations that align with their unique needs and lifestyle, ultimately
boosting patient satisfaction
.
They will also dive into how implementing VX40 has provided practice owners the tools needed to improve patient trust and promote multiple pair sales.
Attendees of this course will explore:
Why technology investments are important to your practice
How technology boosts the overall optical experience
How to elevate the patient's eyewear experience
This webinar is
ideal
for clinicians and practice owners who are looking to enhance the patient experience, educate their staff and invest in technology that boosts practice revenue.
About the Featured Technology:
The fully automated
Visionix®VX40
wavefront lens analyzer is in integrated technology to help practice owners transform and elevate the patient's optical experience.
The VX40 can
detect and analyze bifocals, progressive, and single vision lenses
and is
compatible with all lens technologies and brands
. It is ideal for cold start practices and designed to increase overall practice efficiency.
*** Apple Watch Raffle ***
As usual, ODwire.org is holding a raffle!
Register for the event
& get entered into our drawing for an
Apple Watch!
Good luck & hope to see you on Thursday!