Site Administrator & Tech Lead
Staff member
Feb 24, 2001
16,780
3,350
113
School/Org

University of Michigan Medical School
City

Lake Oswego
State

OR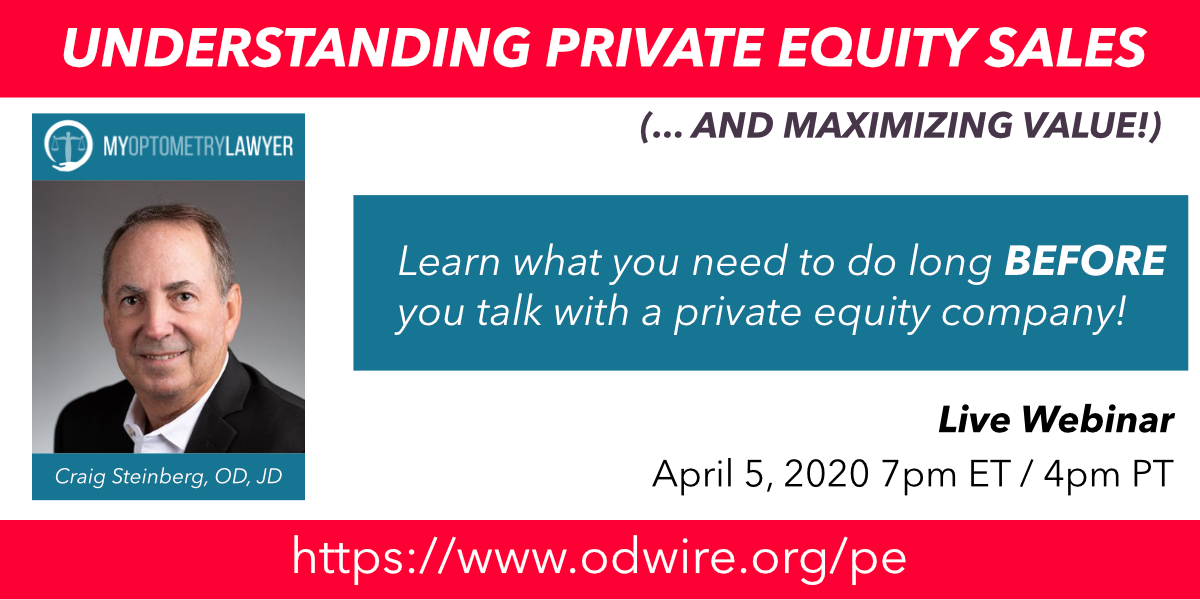 (ODwire.org Supporting Members receive a $20 discount off registration - visit this thread for the code.)
By now almost every private practice optometrist has heard about private equity purchasing practices, and many are wondering whether they should be considering selling their practice to a private equity company.
But
almost none
really know what private equity is
or what
selling their practice to private equity actually entails
, much less how to ensure that they will
maximize their value
if they do sell to private equity.
Having represented many doctors selling to different private equity buyers, Dr. Steinberg, one of optometry's leading legal experts, will give you
unbiased first-hand and immediately-actionable information
in this comprehensive talk about selling a practice to private equity.
Learn what you need to do long BEFORE you talk with a private equity company.
Learn how to estimate what you'll be paid, how much you'll actually end up with at the end, and how to ensure you get the best deal.


Discover how selling to private equity differs from selling to another optometrist.

... And learn the Good, Bad, and Ugly parts of private equity transactions.
This Webinar is the
most comprehensive unbiased discussion on Private Equity transactions available in optometry
.
The Webinar will include the latest information available to Dr. Steinberg about how PE Sales are being impacted by COVID-19.
REGISTER HERE